Merits and Demerits of Linoleum Floors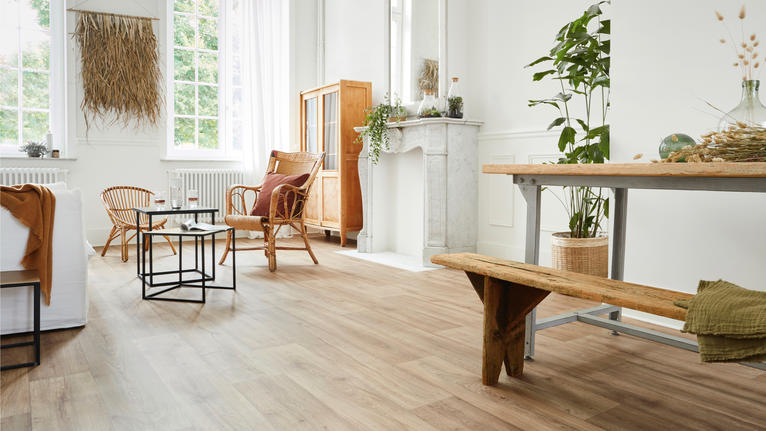 Merits of Linoleum Floor
This floor material is not only durable, but also aesthetically pleasing. These are some of the most significant advantages of linoleum.
Durability
Environmental friendliness
Moisture resistance
Aesthetics
Low maintenance
Let's discuss each of these benefits of linoleum in detail.
Durability
How long does linoleum last? This is the question everyone asks before installing the floors so, the answer of this question is that with proper maintenance and care, it can last up to 30 years. High-quality linoleum is slightly more expensive than vinyl, although it is still less expensive than hardwood and other flooring options. In comparison, it is much more durable and will last for decades. This flooring material is also tough, making it an ideal choice for high-traffic areas in both residential and commercial properties.
Ecological Floor Material
Linoleum is made from renewable materials, which makes it completely biodegradable. In fact, aside from bamboo and cork flooring, it is one of the most commonly used sustainable flooring materials available on the market. Linoleum is also formaldehyde-free and does not release any harmful fumes that could cause indoor air pollution. Sometimes linoleum boards smell of linseed oil, but the smell dissipates within a few days after installation.
Moisture Resistance
One of the most important things to know about linoleum flooring is that it is moisture resistant enough to make it suitable for kitchens and laundry rooms. In addition, it is very flexible and extremely comfortable underfoot.
Demerits of Linoleum Floor
Linoleum floors can be quite slippery at times. Now that we have discussed the advantages of linoleum, let's look at some of its disadvantages.
Moisture damage
Prone to dents and cuts
Amber
Slippery
Here is a brief overview of each of these disadvantages.
Moisture Damage
Despite its water resistance, linoleum flooring is prone to damage when it comes to standing water, making it a poor choice for bathrooms and basements. Excessive moisture can also curl the edges of linoleum.
Ready to Drum and Cut
Linoleum floors may be durable, but they are also soft and flexible. A quality linoleum floor will last for years, but you must be careful not to accidentally cut it with a sharp object. Similarly, heavy furniture can scratch its surface.
Ambering
Unsealed linoleum floors can take on a yellowish tint if exposed to sunlight for long periods of time. For example, if you lay linoleum on a terrace or roof, the material will either darken or eventually acquire a yellow hue. This is called "ambering" and can be avoided by using a sealant that prevents discoloration.
Slippery
Linoleum floors can be somewhat slippery after waxing or polishing, which can be uncomfortable and can even lead to a nasty fall. In addition to wax, dust can also make the floor slippery, which can be quite dangerous if you have children and elderly people in the house.